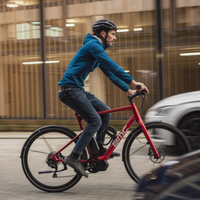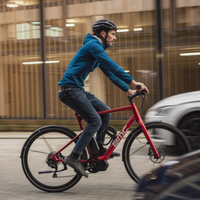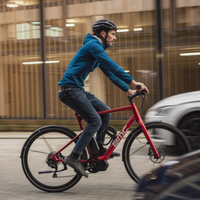 News
Why commute by bike this winter?
With the changing seasons and the shorter, colder days closing in fast, the motivation to choose to commute by bicycle over the car, train or other forms of transportation can often be low. However, the benefits of cycling to work will always outweigh that of choosing any other for many reasons. 
The 2020 National Travel Survey, carried out by the UK Government, highlighted that 25% of trips made are under 1-mile long, while 71% are under 5-miles, both distances being easily commutable by bike. To help you make the right choice, we've explored some of the main reasons why to commute by bicycle.
Cost Benefits
Now more than ever, in the current cost of living crisis, choosing a cost effective form of transport for any journey is key. With the rising cost of train fares, public transportation and, of course, fuel over the past year or two, without even considering the rising price of food and energy bills, having a more affordable way of covering shorter distances will make a recognisable difference on what's left in your wallet at the end of each month.
Once the capital outlay of your bicycle has been made, at whichever price point you choose, the maintenance costs are minimal if you look after it, meaning that all you're spending is energy (and calories) while riding to and from your destination. On top of this, the many Cycle To Work schemes available mean that you can save money on buying your bike and accessories at the start of your journey too.
Greener Transport 
Put simply, riding a bike is better for the environment than driving a car, sitting on a bus, getting a train or any of the other forms of public transport. The climate crisis is something that cannot be ignored, whoever or wherever you are now, so doing your bit in as many ways as possible is important.
Avoid The Strikes
Anyone who regularly uses public transport in the UK will likely have been affected by the recent strikes across trains, buses and underground services over the past months. Take back control of your commute and plan your own journey on two wheels where possible as one thing's for sure, your bike won't go on strike.
Physical Health
Cycling is a great form of cardiovascular exercise, which in turn is important for all of us to stay healthy. Cycling to work is a great way of getting your daily dose of exercise while also saving both money and time, and travelling more sustainably. This, in turn, is of benefit to your cardiovascular system which helps to strengthen your heart and prevent or lower the risk of cardiovascular issues such as heart disease. Furthermore, cycling will help you to lower your blood pressure, help maintain healthier joints, regulate your weight and much more. 
The latest advice from the NHS in the UK is for adults between 19-64 years old to do some level of physical activity everyday and at least 150 minutes of moderate intensity activity a week. With just 30 minutes on your bike each day, that's your 150 minutes a week covered even before you've reached the weekend.
Mental Health
In the same way that cycling and other forms of physical activity can help your body stay fit and healthy, the same can also be said for your mind too. Exercise helps to release endorphins which in turn help boost your mood and can therefore improve your mental health.
It's not just the activity itself which helps when looking at riding a bicycle; if you're riding in calming, scenic areas such as on the coast or in the countryside then you'll likely find yourself less stressed too, much more so than if you had to contest with the traffic or busy, hectic public transport.
Save Time
Often, if you're covering shorter distances, getting from A to B is quicker by bicycle. There's no need to sit bumper to bumper in traffic or to stand at the bus stop waiting for two to arrive at once. And there's no need to fight for a parking space either. 
With the average journey lengths being what they are, the chances are that you will save time by quickly jumping on the bike and getting going.
Bikes, apparel and accessories suited to the commute
It's easier than ever to find the right bike for the commute now, with more and more options for folding and electric bikes which are tailored for urban cycling. Once you've got the bike for the journey, the apparel and accessories should be even easier with a huge range of options suited to whatever riding you're doing, whatever the conditions.
Whether you're riding often in low-light conditions and you're in need of high visibility apparel to stay seen such as the Altura Nightvision range, or stylish kit which is as at home on the bike as off it such as the all new Grid range, there's kit to suit every ride. 
It's no different when it comes to the luggage and accessories designed to help you tackle your route, your way. We combine technical fabrics and features with expert attention to detail across an extensive range of panniers, backpacks, bar bags and accessories to give you peace of mind that your essentials will arrive as safely at your destination as you do.
Take the bike instead this winter where you can and reap the benefits yourself.